1. The Witches (Angelica Huston)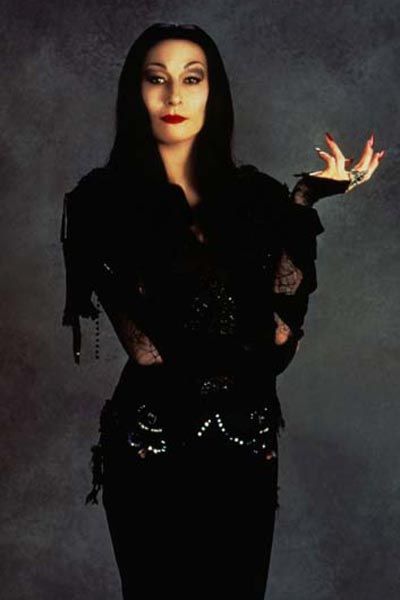 First off, I know Morticia isn't a witch, but she is a woman of dark and death. In both movies Ms. Huston's sense of style is wonderful! Do you see the vintage hat w/ the veil? The beautiful chunky rings along with the velvet gloves?!? We all know that black will forever be classic color. I love Ms. Huston she's such a wonderful actress.
2. The Witches of Eastwick
These chicks were hot! The blonde, the red head, and the brunette! They each had their own individual styles and personalities. I love Michelle's Hat and glasses, and we all know Cher has always been a bombshell. I wonder what these ladies would've put together if there was a lookbook.nu back in the 80's? hmm??
"I am Human and I need to be loved just like anybody else...does." okay, okay, I love the theme song... sue me! Any who; we all know and love Charmed!! These chicks saved the city of San Francisco and was sexy and powerful while doing it! Who knew freezing time, white lighting and premonitions could be so cool! I still watch this show every morning while I'm getting ready for class. Re-runs are just as good as the first time watching.
This movie came out when I was 5 years old in 1993, and it has been one of my favorite movies ever since. These little witches were feisty! sucking the life out of little children! Besides the movie being so good, I LOVED the costumes! I loved every one's hair and make-up. The way the long dresses went so well with the corsets was very medieval, and I love the way they used to dress in the time period!
I like how these two sisters were total opposites but had the strongest bond ever. The content of this movie was great. If you haven't seen it go do so, it's a must see.
Again.. another pair of sisterly witches with love, and a little magic! I grew up watching any and every show they've (Tia and Tamera Mowery) ever been in... Go twitches! Go twitches!
9. Sabrina The Teenage Witch
There you have it! My witches collection for HALLOWEEN!