Hello Lovely people! As you all know, school is back in session and you can tell cause I've been slacking on my blogging!! Though I still have exciting ideas and stories for you to read, they're coming slower because of the load I have.. But any who, on to the root of this post. The 52nd Annual Grammy Awards! I know that it was probably on everyone's Television at home, so if you missed it go on YouTube or something and look it up! Now, was it just me, or did the ENTIRE CEREMONY revolve around Beyonce Knowles, Lady GaGa, and Taylor Swift?? If you feel otherwise please feel free to comment and make your mark (opinion) below.
Lets get to the fashion tidbits on these ladies. I was not listening when they said who the designers were that they had on, but I was most definitely looking at how they styled there dresses.. First thing first-
Lady Gaga
. Her opening act glitter green bodysuit look WAY uncomfortable, but we all know this lady goes over the top and will continue to do so.. but her main accessory that was missing that is a must in everyones fashion is PERSONALITY!! She's soo boring.. Her outfit put-together's and outstanding glitter-iffics is "POW" but that dull face is always in DOOKIE, and she just sits there like a Christmas Tree- a DEAD one!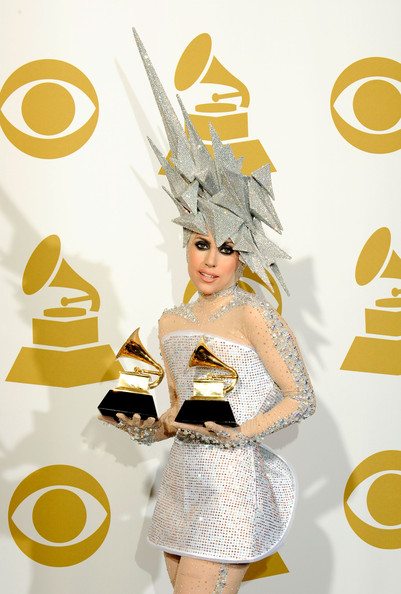 Now
Beyonce
usually is a country Bumpkin to me! one time she had on white shimmery stockings! A NO-NO! But I kind of liked this dress this time around. She usually goes with the fishtail look because it accentuates her curves. The things I didn't like were the earrings and the lace-front wig. Beyonce's earrings should've been smaller and simple because the design/maze in the dress is ENOUGH! her lace-front looked recycled or too new! the blend in the lace wasn't done well, and her haid should've been in a nice elegant bun. Her big shoulder pad dress was NICE! I loved it! And the dress during her performance was good too! I liked the performance also, She and the LADY BAND ROCKED Alanis Morrissette!
Taylor Swift
RED CARPET dress really didn't do anything for her shape and/or body. I mean the color was nice and the dress was bedazzled all up, but the cut was wrong. She should've had on a push up bra or something..idk.. Her performing fit was nothing out of the ordinary it looked comfy and country singer style.. it suited her.. When she accepted her award, she put the other she had on before back on.. so..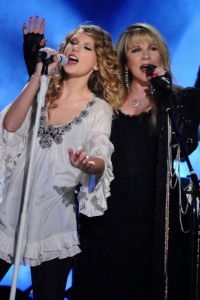 There's my take on the three women that mattered in the GRAMMY'S